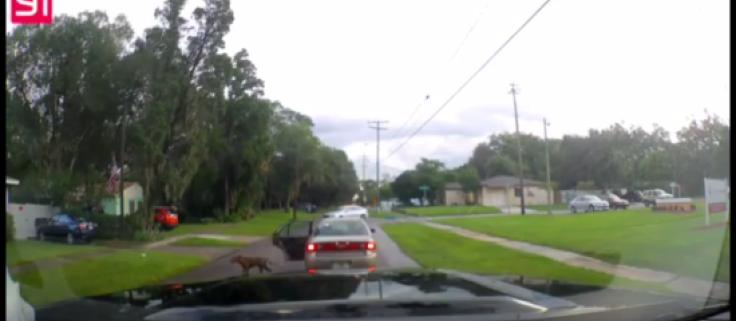 Heartbreaking scene as Tampa dog dumped out of car tries to run after his family
In a heartbreaking video, a Tampa man recorded dash-cam footage showing a driver opening up his car door and pushing a dog out in a South Seminole Heights neighborhood

 Jerit Gaddis posted the video onto social media Monday night, and his comments expressed his utter disgust while asking everyone to share the video to help catch this person: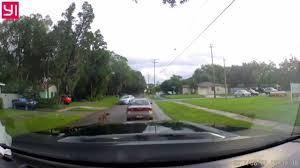 "So this sorry piece of sh*t, thought he was going to throw his dog out and get away with it. Well you did it in front of the wrong person POS. I tried to catch the dog, but he kept running after the car. Thank God for my dash cam. I will contact every news station in town if I must. Waiting for police to come and receive the footage, license plate, etc. Don't mind the music, it's 90s Pop Radio lol
4 door gold chevy cavalier mid 90s
North Blvd and MLK

Fawn red nose pitbull- not neutered – Male
Approx weight 60-80lbs
Roughly 6:39 PM
Please share the post is public."
Gaddis had been driving north on North Boulevard from River Heights Avenue when he spotted the Chevy Cavalier in front of him stopped on the road next to the Common Ground Christian Church. As soon as the car stopped, the dog was pushed out; apparently confused the dog tried to run after the car, but could not keep up. Gaddis tried to call the dog, but the animal was so scared he ran off.
When Gaddis called the police, they told him there was nothing they could do:
"Police just left; they said there is nothing they can do. It does not constitute as neglect or abandonment. I gave them the Florida Statue 828.12. They have transferred it to animal control for their determination," he said.
But the Good Samaritan had no intentions of giving up, and when he called Animal Control, a more positive and reasonable explanation followed:
"…it  does violate the state statute I provided. I will have more information tomorrow. Thank you all for your caring and concern. ..Animal control just called and will be filing either felony/misdemeanor charges.
According to Fox News, on Tuesday afternoon, Hillsborough County Pet Resources issued a statement concerning the investigation:
"Animal Control officers are reviewing dash cam video of the incident taken by a nearby motorist. Anyone who has information on the incident or the identity of the driver is encouraged to contact Animal Control at 813.744-5660. Pet Resources officials remind anyone facing difficulty caring for a dog or cat that the PRC shelter on Falkenburg Road is an open admissions shelter and accepts all dogs, cats, puppies or kittens regardless of age, breed, size or medical condition. Abandoning an animal on the side of the road is never an acceptable option and could leave the owner facing animal cruelty or neglect charges."
Follow the National Pet Rescue on Facebook.
Photo and video of Tampa dog kicked out of car via Jerit Gaddis on Facebook.
If anyone can help finding the frightened dog, it would certainly help to save a life.
https://www.facebook.com/jerit.gaddis/videos/10154794938866546/